In 1961 Carlo Chiti, a former engineer with Alfa Romeo and Ferrari, founded Auto-Delta together with Alfa Romeo dealer Ludovico Chizzola. Based in Feletto Umberto, Udine (Italy), Auto-Delta became the official racing department of Alfa Romeo on 5th March 1963. In 1964 the company name changed to Autodelta SpA and moved to Settimo Milanese to be closer to the Alfa Romeo factory in Arese, allowing Autodelta to use all Alfa Romeo facillities like the Balocco test track.
Autodelta's mission was to bring Alfa Romeo back to the top of motorsports after Alfa Romeo's successes in the 1950's with the Tipo 159 Alfetta. The first car Autodelta developed with Alfa Romeo and Zagato was the Giulia Tubolare Zagato (TZ) in 1962. The car was based on a tubular frame and powerd by the famous Alfa Romeo DOHC 4 cylinder 1600 cc engine. Autodelta introduced the Twin Spark cylinderheads for the TZ which proved to be very successful in racing. The lightweight TZ outpaced many competitors with much larger engine capacities. In 1965 the TZ 2 succeeded the TZ but saw little action as the Autodelta prepared Giulia Sprint GTA took over as the leading touring car racer for Alfa Romeo. The GTA and its successor the GTAm dominated touring car racing well into the 1970's.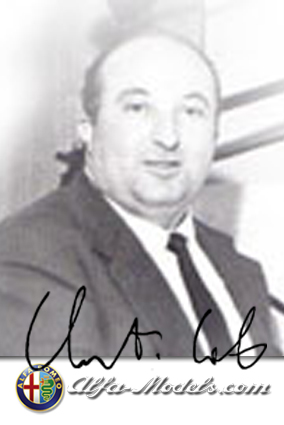 Alfa Romeo also commissioned Autodelta to build a car for World Sportscar Championship. In 1967 the 2.0 V8 Tipo 33-2 was introduced at a hillclimb in Fleron, Belgium. The Tipo 33 evolved during the years to the Tipo 33-3 which won the 1971 Targa Florio, the 33 TT 3, the 33 TT 12 and eventually the 33 SC 12 with which Alfa Romeo won the constructors championships in 1975 and 1977.
The flat 12 cylinder engine of the Tipo 33 TT 12 also found its way to Formula One racing. Alfa Romeo supplied the engines to the Brabham F1 team. Alfa Romeo returned to Formula One racing with a factory team in 1979. The team was run by Autodelta SpA but was never very successful.
Carlo Chiti left Autodelta in 1983 to start Motori-Moderni. The Autodelta name was phased out by Alfa Romeo.