After FIAT took over Alfa Romeo in 1985, the different identities of the three car brands of the FIAT-Group ar redefined; FIAT will build main-stream cars, Lancia is the luxurious brand and Alfa Romeo will be the brand to bring sporty cars. In 1987 Pininfarinia is hired to draw a concept for the new Alfa Spider, a typical two-seater sportscar that should also be successful on the American market. On the same platform, a 2+2 sports coupe should be designed. Project Tipo 916 was born.

The car had to be designed on the FIAT C-platform, already planned for use for the FIAT Tempra, Lancia Dedra and Alfa 155. Pininfarina's designer Enrico Fumia creates the first sketches that are immediately accepted by the Alfa Romeo management. The first clay-models is made in the spring of 1988 and in 1989 the final 1:1 model of the Spider is handed over to Alfa's Centro Stile, where Walter da Silva is responsible for the final details of the design. In late 1989 the final design of the GTV is also presented by Pininfarina to Centro Stile.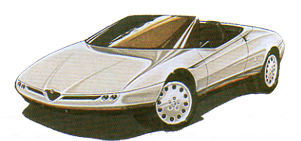 In 1991 Alfa Romeo presents the Proteo prototype at the Geneva motorshow. The Proteo, designed by Water da Silva and Alberto Bertelli has many of the design features of the future Alfa Spider and GTV and is used to see how the public responds to the overall concept.
The rear suspension of the new Alfa Spider/GTV was designed by Gianclaudio Travaglio. Using an aluminium subframe, the rear wheels are guided by a lower and an upper wishbone and an anti-roll bar, giving the car incredibly good handling. The front suspension was identical to the suspension of the Alfa 155.
When the car is introduced in Paris on 6th October 1994, the Spider can be ordered with the 2.0 litre TwinSpark 16v or de 3.0 litre V6 12v; The GTV buyer can choose between the TwinSpark or the 2.0 V6 Turbo engine. In the fall of 1995 the 3.0 24v is introduced for the GTV.