In the late 1960 work starts on a new Alfa Romeo project: a small reasonably priced family car, designated Progetto Tipo 901. With financial backing from the Italian government an ambitious plan was made which involved the creation of a totally new front wheel drive car, produced in a brand new factory at Pomigliano d'Arco near Naples, in the south of Italy. Unemployment in the southern regions of Italy was the only reason for building the factory there. Being produced in the south (sud in italian) a name for the car was easy to find: Alfa Sud or Alfasud. This meant the end of the word 'Milano' in the Alfa Romeo logo.

Head of the new project was Rudolf Hruska. In januari 1968 he presented his first detailed plans to the board of Alfa Romeo and after approval Hruska was ordered to get the new Alfasud in production within 48 months. Just four years to build a new factory to produce a car with a completely new engine, drivetrain, suspension and body. The foundation stone of the Pomigliano d'Arco factory was laid on 29th April 1968. With the help of Carlo Bossaglia, Hruska designs a boxer engine (engine code AS30100) which is first tested on 10th July 1968. The engine had a displacement of 1186 cc, two overhead camshafts and a compression ratio of 8,8:1. It delivered 63 hp and 85 Nm torque. Frederico Hoffman was responsible for the new drivetrain and suspension; McPherson struts and anti-roll bar at the front, a rigid axle with Watt-linkage and Panhard rod at the back.The Alfasud has a four speed gearbox and disc brakes at the front and at the back.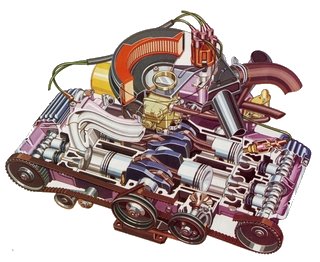 Giorgetto Giugiaro finished the design of the car in september 1968 and two months later the first, camouflaged Alfasud made its first miles. The car was 3,97 meters long and had a wheel base of 2455 mm.
At the 53rd Turin motorshow in November 1971 the Alfasud was introduced to the public. During this show, Giugiaro also presented the Alfa Caimano prototype, which was based on the Alfasud platform.