The Alfa Romeo Alfetta was introduced in 1972. In February of 1967 the first sketches are drawn at Alfa's own Centro Stile, headed by Orazio Satta Puliga and his chief designer Scarnati. The car had a lay-out inspired by the Tipo 158 / 159 'Alfetta' racing cars and the 8C 2900, with the gearbox mounted at the back of the car together with the clutch and differential. By placing the heavy clutch, gearbox and differential at the rear axle, a near 50/50 weight distribution was achieved, improving the cars handling. For the front suspension torsion bars were used. The Alfetta, progetto 116, was designed to replace the aging Giulia, which had been in production since 1963.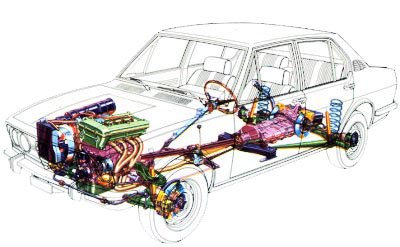 There were a variety of engines available during its lifespan. There were two four-cylinder DOHC engines with two double-barrel carburetors, and a turbo-Diesel engine supplied by VM Motori. The Diesel, introduced in 1979, was initially 2-liters but in 1982 was enlarged to 2.4-liters.
In early 1972 the Alfetta is ready for production and in May the 1.8 is introduced to the press in Trieste. Until 1975 the Alfetta is only available with the 1.8 engine. In January 1975 the 1.6 is introduced. In February 1977 the 2.0 is launched, with a new, longer nose and square headlights. The 1.6 and 1.8 keep the 'short nose' and the round headlights until 1981. From 1981 to 1984 all Alfetta's are built with the long nose and square headlights.
The drivetrain structure was unique for Alfa Romeo, a design that was first used on the Alfetta 158/159 Grand Prix cars. The transmission, clutch, and differential were placed at the rear axle to maximize weight distribution and amplify the vehicles handling capabilities. The rear suspension was a de Dion beam while the front was double wishbones and torsion bars.

In 1979 the Alfetta was given cosmetic updates such as a revised front-end, new lights. Another facelift in 1984 resulted in a name-change, the Alfa Romeo 90. This new name aligned the Alfetta with the Alfa Romeo naming scheme, which included the Alfa Romeo 33 and 75.
From 1972 to 1984 a total of 475.722 Alfetta's were built.
Shop for Alfetta scale models!