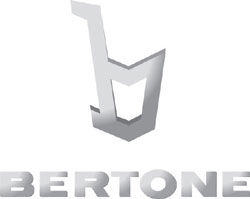 Nine designs were made by Bertone's designer Franco Scaglione, three of them were actually built. The Berlinetta Aerodinamica Tecnica, better known as B.A.T. 5, 7 and 9. Based on the Alfa Romeo 1900 Sprint, the B.A.T.'s were the most radical aerodynamics studies of the 1950's.
In 1952 Alfa Romeo invited Disegno Bertone to tender for the design of the Disco Volante, which was also based on the Alfa 1900. Bertone didn't get the order as Alfa Romeo production chief Rudolf Hruska decided the project would be done by Touring. The design of the Disco Volante, both the spider and the coupe, made the car unstable at high speeds. Hruska asked Bertone to start a project on their own, to try and solve the stability issues.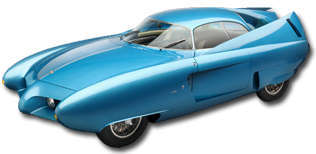 Aerodynamics specialist Franco Scaglione was familiar with the most recent developments in aerodynamics and the latest theories of Paul Jaray and Wunibald Kamm. The first prototype was the B.A.T. 5. Powered with the four cylinder 100 HP engine of the Alfa 1900, the car could reach a top speed of 200 km/h. The car was very stable at high speeds, due to the wild aerodynamics of the tail of the car. The drag coefficient was a mind blowing 0,21!
A year later, the B.A.T. 7 was introduced. This time the car had the 115 HP version of the Alfa 4 cylinder engine. After the 7, Bertone built the B.A.T. 9, which was supposed to be more practical and closer to a normal production car. Eventhough the B.A.T. 9 lacked the outrageous bat-like wings, the car had a drag coefficient of just 0,19!
The B.A.T. cars were just showcases of Italian car design and never went into production. However, the Alfa Romeo Giulietta Sprint Speciale used many design features of the B.A.T. cars.